There is everything in Batumi…
Alicja Wrzos
Translation: Joanna Cal
…everything except for cohesion, harmony and apparent beauty.
It's a well-known health resort and never sleepy entertainment center stubbornly trying to resemble Las Vegas. You will find there luxurious hotels, interesting monuments and unique sculptures. In the city there's a fountain, from which once a real chacha was gushing. There's also Batumi Tower, a skyscraper with a devil's mill on the twenty seventh floor. It was supposed to be the seat of the university, but for years it was empty and the university was never opened.
The first thing I felt while being in this city was its subtropical, humid climate. For three days of my stay the weather kind of stood still.There was no sunshine, no rain or wind blowing. The pervasive, lush vegetation gives the city a charm, and introduces additional chaos intertwined with wild architecture.
Batumi welcomed me in a nervous atmosphere. After arriving by train from Tbilisi I was being taunted by cab drivers near the train station. Apart from the vegetation a bit like from the jungle, it turned out, that also the law of the jungle applies here. The cab drivers didn't understand the refusal until I yelled at them. When the driver arrived, I was afraid that he would be hurt. I had the same feeling later on in the seaside pubs, where the owners drowned out each other with music. I was forced to listen to several songs at once. People around me were sitting quietly, as if it didn't bother anybody.
The small street, where my accommodation was supposed to be located, made me enchanted. It was filled with flowers, florists and other vendors. The place where I stayed wasn't marked in any way, so I asked the first street vendor I met. She shouted something to one of the florists, who led me in a rush to a florist's shop. At first I thought that she is my housekeeper and the room is located there. Unfortunately it wasn't.
It also turned out that some florists work here around the clock. At night the water-covered plants in the pots shine on asphalt. A young worker came to me on the street with a guitar and with an opera voice sang Georgian songs. I have no idea who buys flowers there at midnight, but I know that he sang very nicely.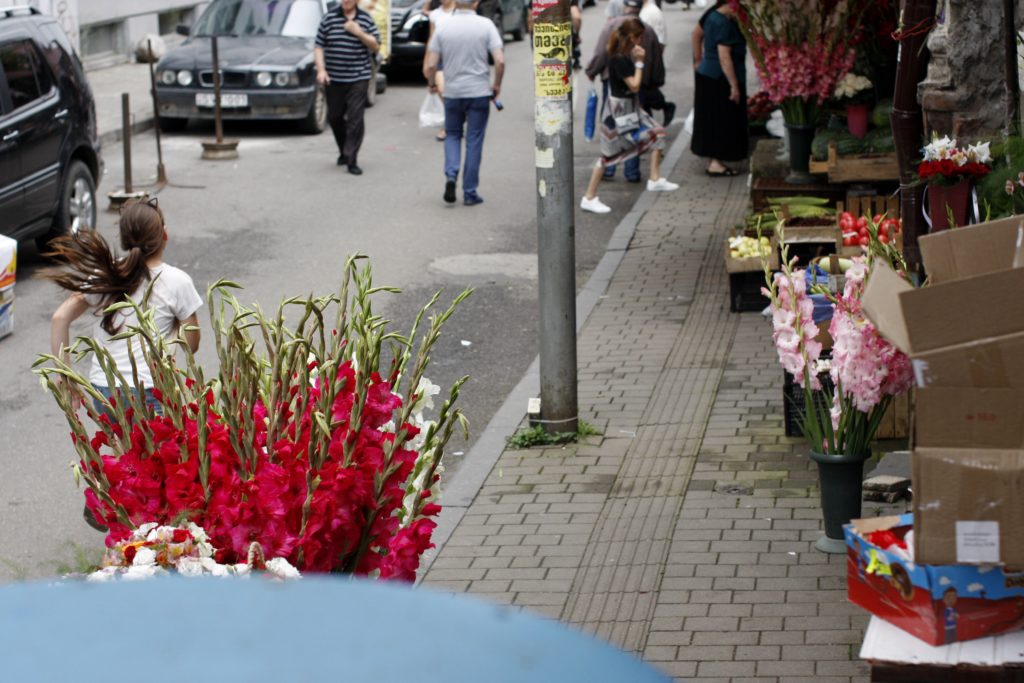 The view from my window slightly interfered with the character of the room's interior, which was decorated in the palace style, had a chandelier made of glasses imitating diamonds and columns around the bed.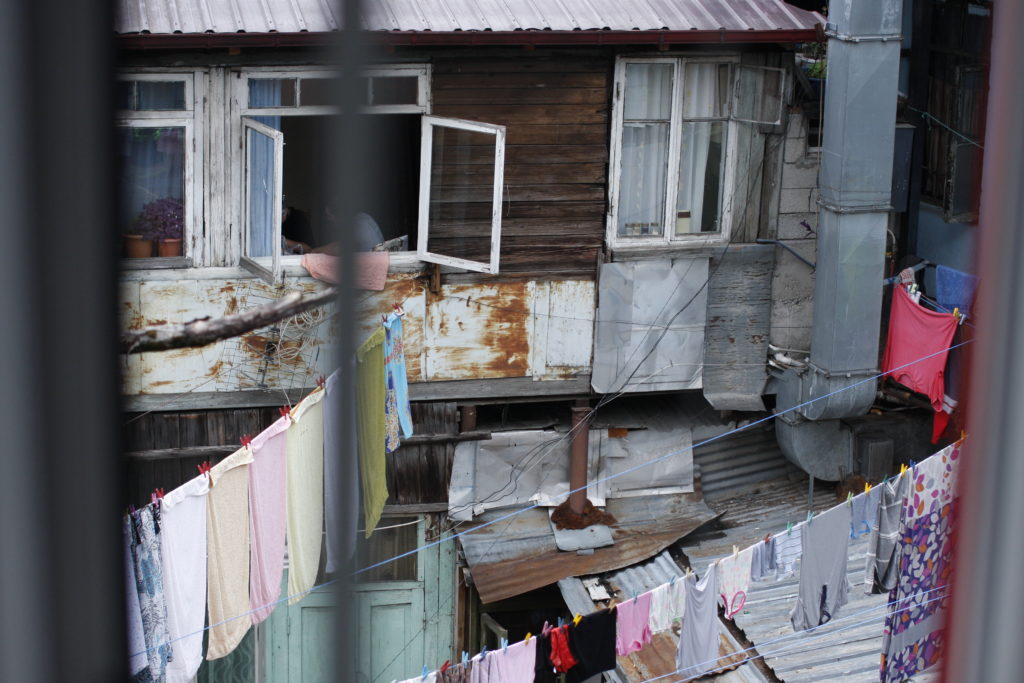 I don't Georgian, but I managed to communicate with some combination of Polish and Russian. An elderly woman asked with a serious face why I am photographing this building. Thinking little I answered "krasivy" and actually I meant it. The lady answered with a smile, repeating after me "krasivy…". I'm not sure if she understood me properly.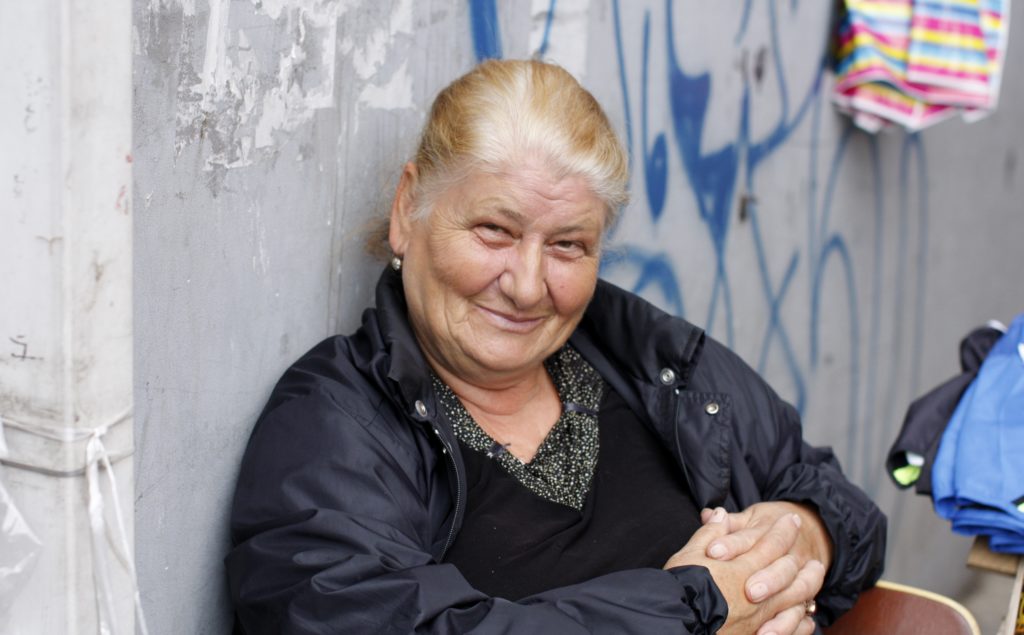 The beachfront in Batumi is long,with gray stones. There is a lot of space for evening walks.  On the seaside, on almost seven kilometers long promenade is always a lot going on.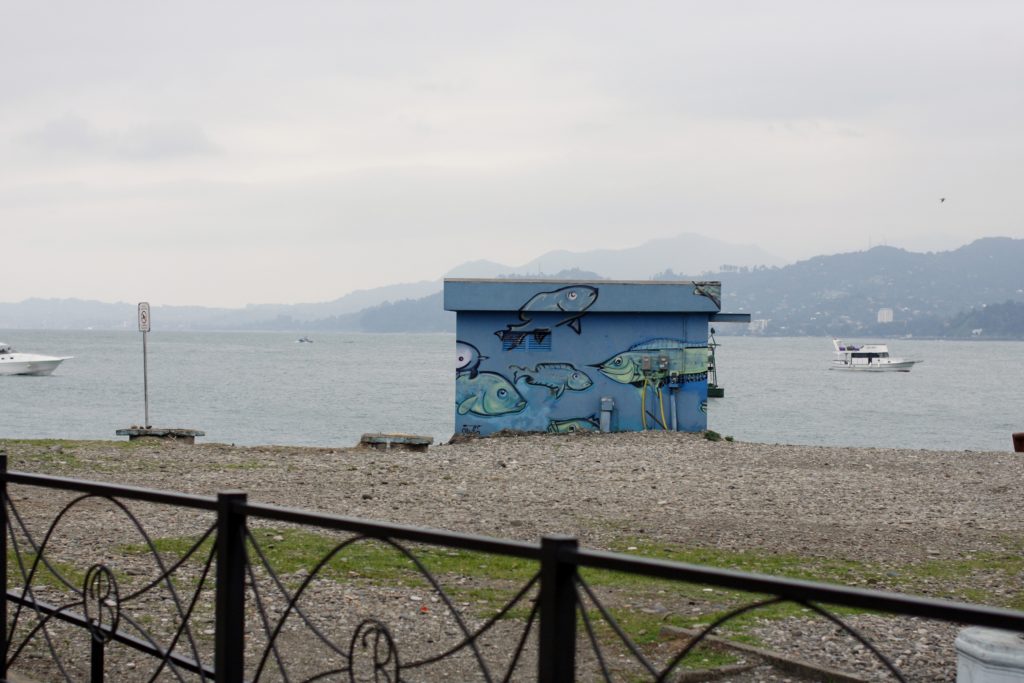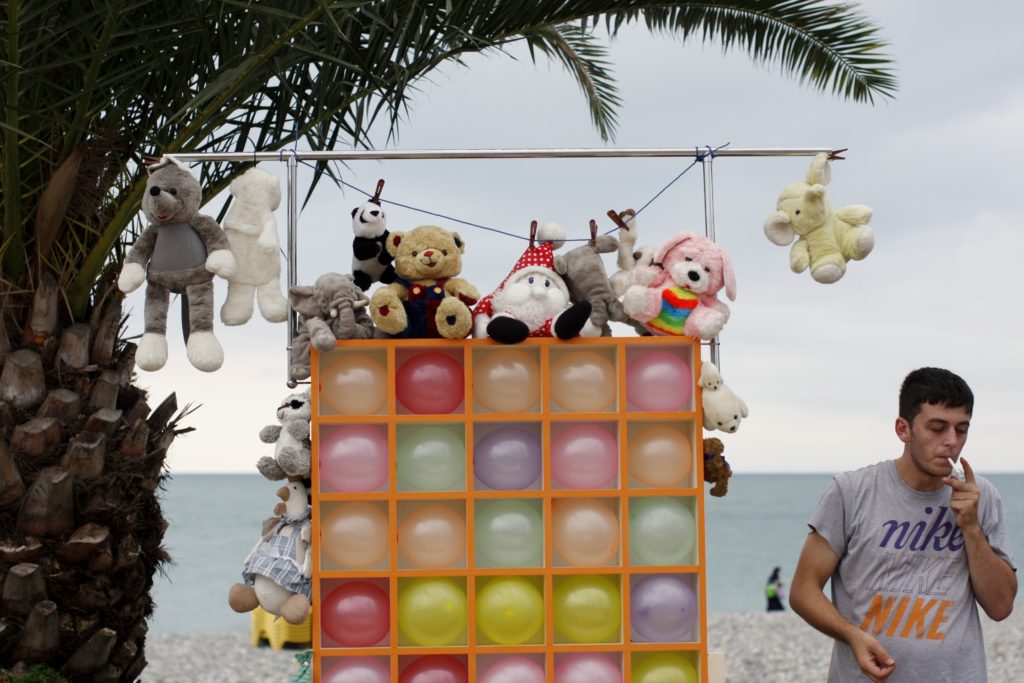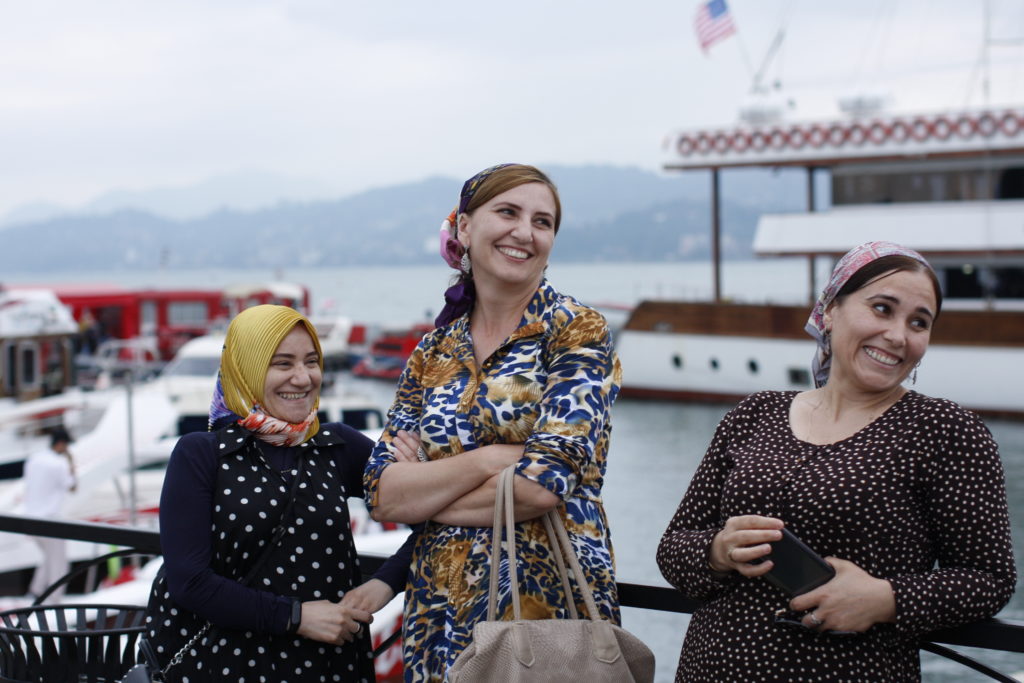 Below you can see some pictures presenting in a subjective way the diversity of this city. I would like to go back to the moment when I have never seen Batumi before.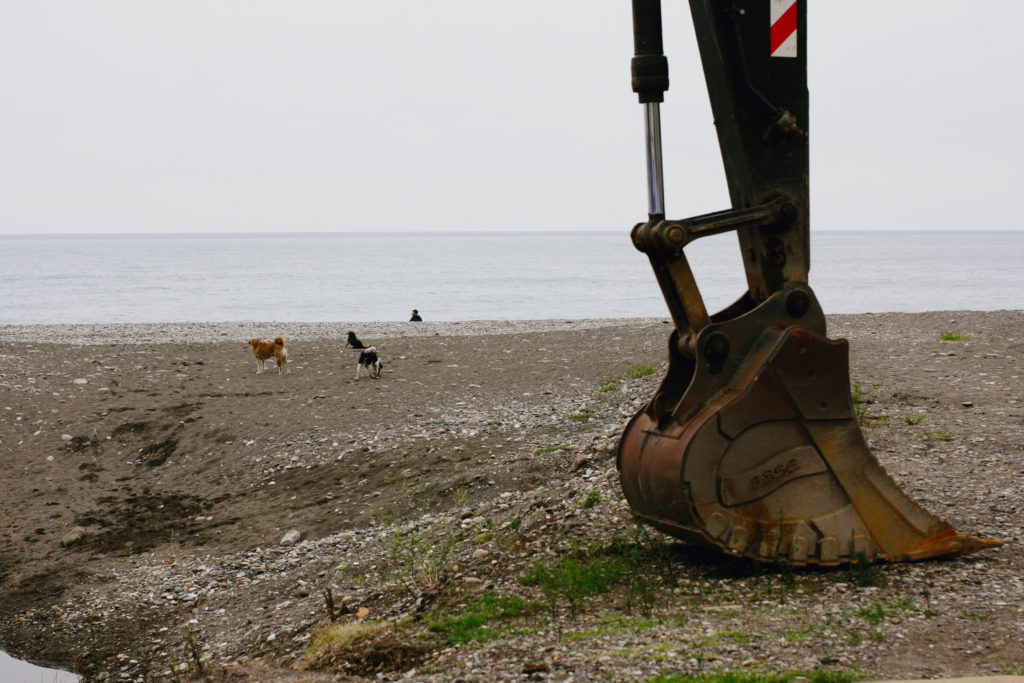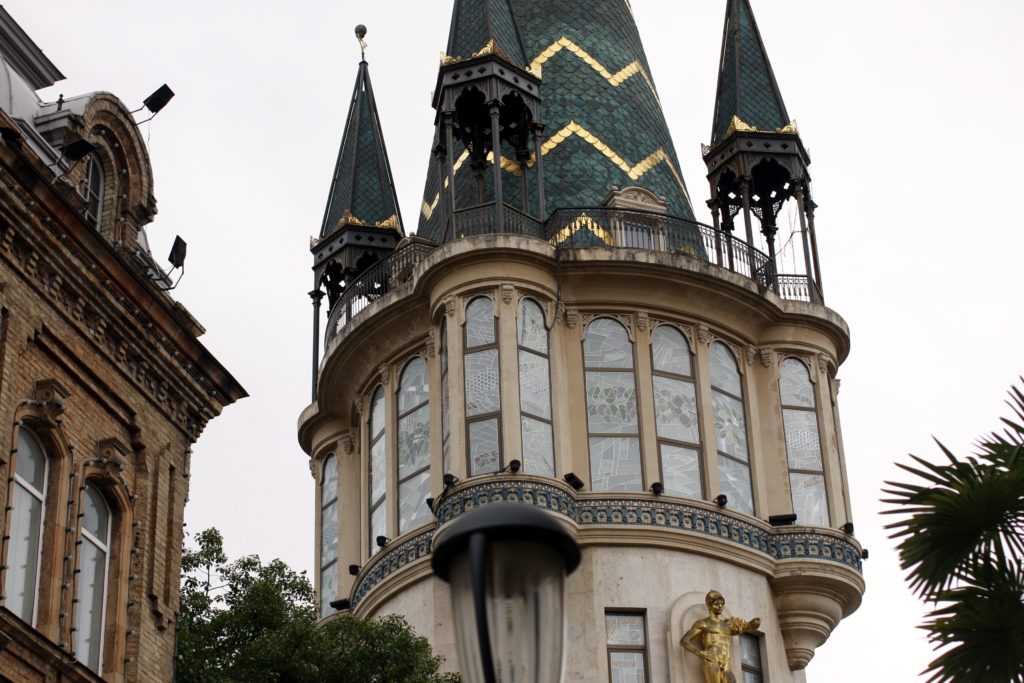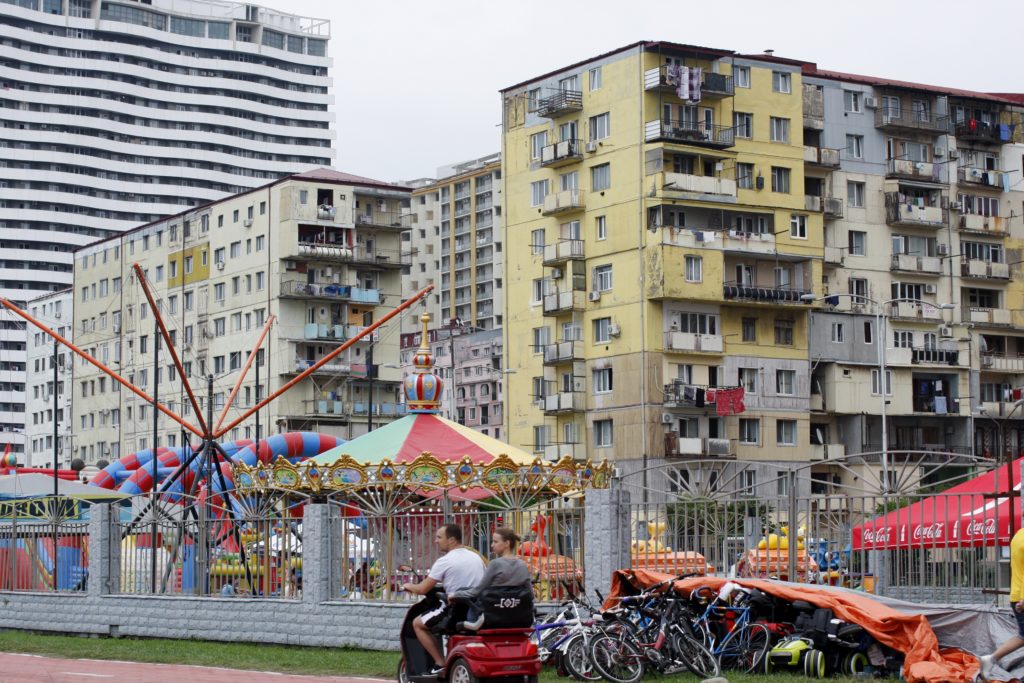 My first reaction to this city was that I regret to spend only three days in it. In my opinion every city has its own spirit. It consists of many things, including, and sometimes even most of all, trifles. Traces of history, nature, order or chaos speak to us. Ugliness or beauty, banality or ambiguity, but also a mystery. Authenticity versus window dressing, predictability and security versus lack of control. Pride versus embarrassment. Street art or inscriptions on walls also speak to us. I think that sometimes it is difficult to understand, but it always affects us in some way.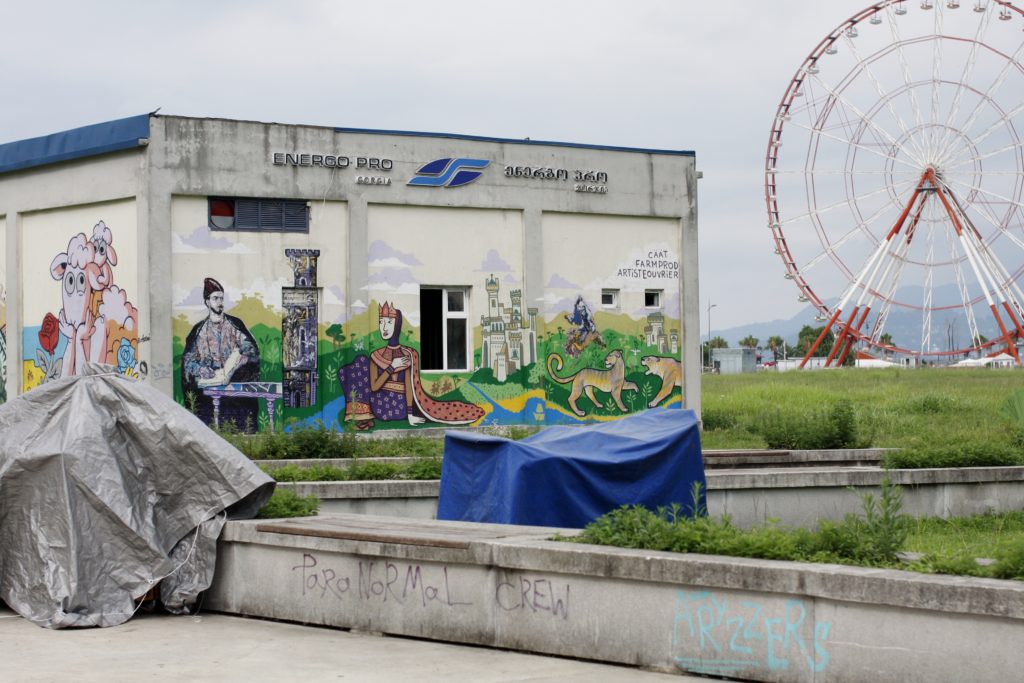 The second reaction was a strange dream that my thoughts and actions are controlled by one of my friends, but nobody believes it. Supermarkets close without any way out. The escalators start to work in the opposite direction. The dream was long and eery. Maybe my mind wanted to piece something together. I dreamt about some numbers too. When I woke up at three o'clock at night I thought about the casino I was planning to go to the next day. I looked around the palace room and felt all-overish.
Batumi is like one big casino, you never know what kind of mood it will put us in, what and who we will meet around the corner. At the same time, it's quite ostentatious. Actually I didn't have time to think about it, the city was somehow attractive and the people around were absorbed in vacations. I almost believed them that Batumi is an ordinary, joyful place. Peculiar sculptures, skyscrapers, theme parks and lights were kind of screaming to me.
In one of the clubs I asked musicians playing popular European songs for something Georgian. The singer was surprised. The florist would be useful there…